Back to overview
Technician & Machine Operator (m/f)
Snaaskerke-Gistel (Belgium)
Tasks
Setting and adjusting the machines.
Controlling the quality of the products.
Identifying and reporting deviations to the production process.
Transporting raw materials and finished products using a forklift.
Offer
Nails of Flanders is a producer of nails located in Snaaskerke (West Flanders) and is part of the PGS Group, the European leader in the production of wooden pallets.
The PGS Group invests in its people and wants to offer them a pleasant working environment. Therefore, we invest heavily in lifelong learning, safety, ergonomics, team building activities and much more.
Within this position, you will receive extensive training from the Site Manager.
The nail factory has a capacity of 12,000 tons of nails per year in various shapes and sizes. The machine park has 6 machines that produce 24 types of nails, suitable for the manufacture of pallets. Every minute 1,500 to 1,800 nails are made.

Location: Steenovenstraat 9 - 8470 Snaaskerke (Belgium)
Profile
You are highly motivated.
You have either a degree, experience or interest in mechanics.
Being in possession of a forklift- and an overhead crane certificate is a plus.
You speak Dutch or English.
You are willing to work in 2 shifts.
You are conscious of safety and quality.
You are disciplined and independent.
Invoicing data
Nails of Flanders
Steenovenstraat 9 - 8470 Snaaskerke (Belgium)
BTW BE0726.886.029

1
2
3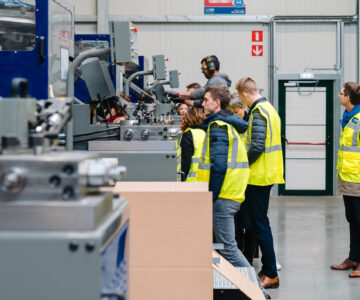 4